Door open at JKRowling's site
On Halloween of all days too! Thanks to The Leaky Cauldron for the tips, this is how you go about getting in.
Go to
J.K.Rowling.com
, and click on t he hair tie. Once in there, you'll have to be patient, and wait for Peeves to fly through. Once he's come, he'll knock over the vase in his wake, and keys will come flying out of the vase. Choose a key by clicking on it and dragging it, and insert it into the locked door. The right key will open the door, giving you an ariel view of Joe's desk (which I must say, am so Happy to see-mine's not the worsts :D). You need to open the drawer on the left side of the desk. There you will find a magnifying glass. Click and drag over to the brown folder on the left hand side. Once that's done, a riddle will appear.
"One by one we come to life,
The side-by-side we wait,
While our company swells in numbers,
(Some come early, some come late);
And some of us may bore you,
And some of us enthral,
But you cannot choose between usYou must take us one and all.
We'll be bound together tightly For we're naught if we break free.
If you'd like some clues about is
Simply answer: WHO ARE WE?"
The answer to is "chapters". Type that in there, and then you will see another folder that has Harry Potter and the Half Blood Prince on it. There are three pages in which you can pull up, sticking out of the top of this folder. They will reveal to you the names of three of the chapters in the upcoming book.
For some pictures, of what you're looking for/at, go: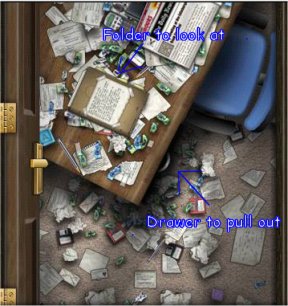 After that you should see this folder: