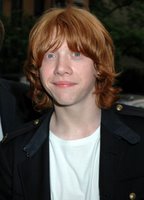 Happy Birthday Rupert!
Today is Rupert Grint's 18th birthday, so happy birthday to him! Rupert mentioned in a recent
interview
that he still wishes to play the part of Ron Weasley in the Harry Potter films, even if he is 18. "I want to do all seven and hopefully that'll happen." Rupert stated in the interview. "It'll be weird when it's all finished because it's been a huge part of my life. I started when I was 11 and I'm 18 now."
Source: HPANA