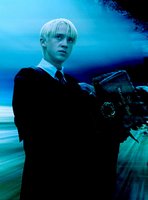 New Interview with Tom Felton
A new video interview with Tom Felton, better known as the infamous Draco Malfoy in the Harry Potter movies, is now available online. In it, Tom talks about his experiences on the set of Harry Potter and his intentions of returning for future installments of the franchise. You can see the video by clicking on the following link.
Windows Media Player

IPod friendly version
--------------------

Quote:
Tom: "There has been a penciled-in contract, so to speak - it's not set in stone - for me to do the next one as well, which I'm very looking forward to doing, and again, for the seventh one, once it's been written, I'm sure they'll be talk of script conversions and already making it into a feature film."


--------------------

Source:
TLC