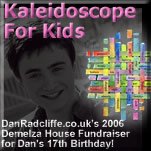 Open Those Pockets People!!
Yup! Charity time!! DanRadcliffe.co.uk has just started their annual Demelza Charity Fundraiser.
Every year, Daniel Radcliffe asks his fans to, instead of sending more gifts than he can keep up with, to make a donation to his favorite charity, Demelza House.
Page wrote this on her site:
"This year, we've decided to make a woven kaleidoscope! I personally saw one of these hanging in a Church I visited last summer, and was absolutely astounded by it's presence. I knew I'd love to have us create one, but plans were already in place for our last fundraiser!"
"The concept is very simple: you make a donation, send me a copy of your email confirmation from Demelza and/or your World Pay Receipt Email, then you go to our special fundraiser page, and fill out a small form on the right side of the page which allows you to pick up to four different "weave" shapes, and four different colors. It is your choice as to what you pick, all we ask in return is a donation to Demelza House! It is very important that you use the SAME email address for your donation (if made online) as you do on the form as we will be verifying the form submissions again the Demelza email confirmations/world pay receipt emails that you receive and forward to us! The woven kaleidoscope will be built digitally and graphically online using the shapes and colors you picked! We will also be placing additional messages, names, and countries upon the woven strips for a personal touch!"
There are several ways you can donate, and two convenience online methods. One is our Official Fundraising Page, whereby you can leave a special message if you wish! You may also donate anonymously there as well. Demelza House pays "Just Giving" a small fee, but assured me that 100% of YOUR donation does directly to them. You can also donate directly to Demelza House.
If you would like to make a donation to Demelza House Children's Hospice directly with Demelza House, please make sure to choose Daniel Radcliffe in the drop down Source box. And write c/o DanRadcliffe.co.uk in the field marked "postal address". This will help us to keep track of all the donations made in Dan's name.
Thanks to all and anyone who participates in this worthwhile cause on Daniel's behalf!!