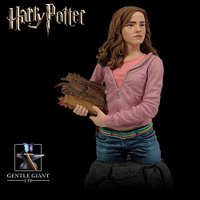 New Releases From Gentle Giant LTD.
Gentle Giant LTD is at it again. And as always, in trying to out do their last attempts, are in the process of putting out four new busts. Two will be ut out in August (Nearly Headless Nick and a Death Eater), with Hermione and Ron coming to go out in November.
So start saving your money now!
Nearly Headless Nick will be limited to 1500, and the Death Eater to 2000 pieces.
No word on how many for the Ron and Hermione pieces, but ALL will be $50.00 a piece.
Check out their
website
for their full line of Harry Potter busts.