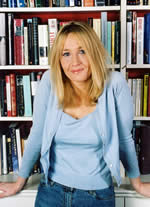 Another Interview with J.K. Rowling
J.K. Rowling's recent
interview
with GirlGuiding Scotland is now available online and a very good read. Rowling speaks about many different things, including Scotland ("Scotland is one of the most hauntingly beautiful places in the world, the history is fascinating, the men are handsome and the whisky is delicious."), Girl Guides, being a woman, careers and, of course, Harry Potter.
When asked how she manages to stay on track when writing her books despite the huge amount of pressure and fan expectations, the celebrated author had this to say:
"I am very protective of my characters and the storyline; I stick fiercely to what I believe is right for them even if I know that it will make some fans unhappy (for instance, some of the romance in book six disappointed readers who were hoping for other pairings). However, resisting this kind of pressure is not as difficult as you might think, because I did a lot of planning in the seven years between having the idea for the Potter books and the publication of Philosopher's Stone, so I have a kind of map to keep me on track."
Source: HPANA