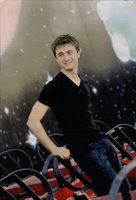 Daniel Radcliffe scheduled to present 'Breakthrough Artist' Award
Daniel Radcliffe will present the 'Breakthrough Artist of the Year' award during a show sponsored by Times/South Bank this Friday, January 27, at the Savoy Hotel in London. The show will then be broadcast on ITV1 on January 29.
The list of nominations can be found on the
Times Online
website.
*Photo courtesy of Stern Magazine*
Source: Veritaserum