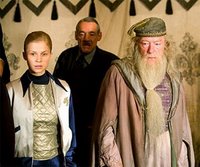 Michael Gambon and Clemence Poesy in Empire Online Magazine
Empire Online Magazine
has posted interviews with actors Michael Gambon who plays Albus Dumbledore, Head Master of Hogwarts, and Clemence Poesy who plays Fleur Delacour, a student from one of the two rival schools in
Harry Potter and the Goblet of Fire
. In the interviews, Gambon and Poesy talk about their characters, about working with the young stars (Dan, Emma and Rupert), as well as their experiences on set with other fellow actors and Director Mike Newell. The interviews are quite entertaining and amusing to read!
You may find them directly on the magazine's site. Click on links below to read the articles directly.
Interview with Michael Gambon!
Interview with Clemence Poesy!
Source:
TLC