Potter Teaching Methods
Who says wizards cannot be used in teaching people in school? Well they'd most certainly be wrong.
If your broomstick failed on take-off, blame your parents. The laws of genetics can explain who inherits magical ability, according to scientific analysis of the Harry Potter books.
Researchers at Melbourne's Murdoch Children's Research Institute have discovered that whether you are a witch, a wizard or a mere human muggle will be determined by the same genetic lottery that gives you your height and eye colour.
They have convinced their scientific peers of the bona fides of their argument, published yesterday in a letter in the journal Nature. They argue that, given the familiarity of young Potter fans with the characters of J. K. Rowling's fantasies, the books may provide a powerful learning tool for young people coming to grips with genetics.
He (Dr. Craig ), said the models, available to teachers on the internet, have proved a hit with students coming to grips with the theories of Austrian monk Gregor Mendel.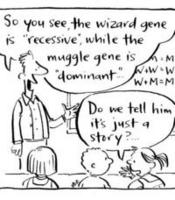 **Article found @
The Age