Hand written Chapter by Rowling
JK Rowling has donated a chapter (Chapter six from Harry Potter and the Philosopher's Stone) to a children's literature centre (
Seven Stories
). Later this month it is to be displayed with a b&w drawing that she produced for the same book.
"Seven Stories is all about exciting and engaging people of all ages with children's books and how they are made." Elizabeth Hammill, Seven Stories' artistic director, said "These exhibits, kindly loaned to us by JK Rowling, will help us to achieve this aim."
Check out the drawing that had been intended on being put into the first book.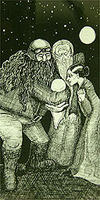 **Thanks to Mel for this.