Madame Maximes' Double @ Large
Ian Whyte, a former professional basketball player who for five years performed for the Newcastle Eagles for England, will indeed be the body double for Hagrids' love interest in the upcoming The Goblet of Fire.
His towering 7ft-plus frame made him perfect to work as Hagrid's love interest Madame Maxine.
"
The reason Frances needed a body double for long shots was that Madame Maxine is eight feet tall - my territory. Francis is a lovely lady, by the way
."
Ian worked mainly at a studio in Watford and the film is due out in November.
"
I can't say too much about it because it's top secret
," smiled Whyte, "
but for Potter enthusiasts it's amazing, a massive production. It was very taxing because my work was much more technical than on Predator
."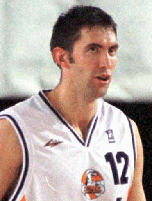 **Thanks to Wizard News on this. For the full article, go to
icTeesside