New Harry Potter stamps
The The Isle of Man Post Office are to release a major new Harry Potter issue on 7th December.The issue consists of eight stamps depicting different scenes from the three Harry Potter movies, The Goblet Of Fire, The Order Of The Phoenix and The Prisoner Of Azkaban.
In addition to the stamps, a number of special presentation packs, collector's packs and postcards will also be made available, clearly aimed at the younger collector: 'The idea behind using Harry is to encourage children to write more letters', said Maxine Cannon of the Isle of Man Post office.
Below are what you will be able to purchase: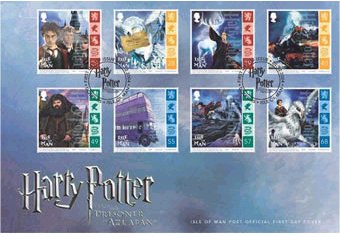 Further pics have come out giving us a better look at the stamps, as well as what you can purchase with them.
Brochure
Buckbeak
(A really cool drawn pic of what Padfoot could/Should look like)
Harry doing the Patronous
Cards
Hedwig
Hagrid
Knight Bus
Hogwarts Express
Dementors/Harry