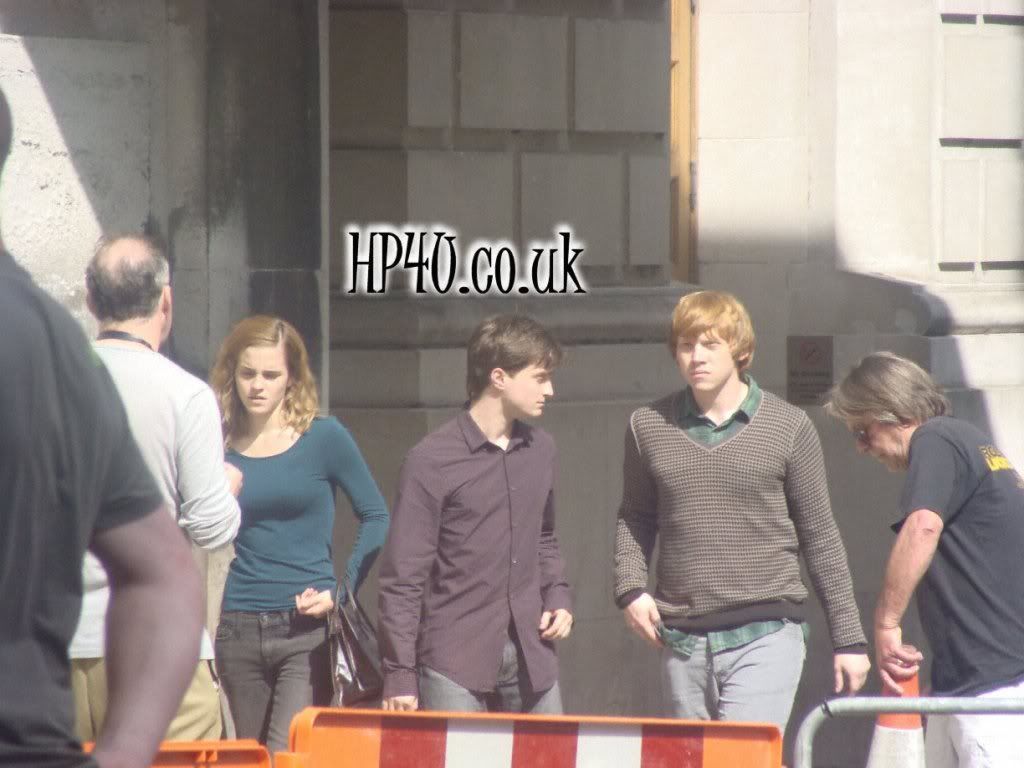 On set with Harry Potter at the Ministry of Magic.
Some superb filming action yesterday from Scotland Yard Square, Whitehall, London.
Early start! 6:30am for the crew and extras, 6:00am if you wanted breakfast!! A fantastic sunny morning gave the chance of some serious shooting of scenes featuring Harry, Ron, Hermione, Mafalda Hopkirk, Albert Runcorn, Reg Cattermole and 'Skinny Wizard'! - more to come on him.....
Along with 100 extras (who were left in the grand Whitehall banqueting hall for most of the day), on set were the trios' body doubles, stand-ins and Ron's stunt double?! (unsure why he was needed today). Also on set were the majority of filming Unit 1 crew, David Heyman (seen talking at length to Emma during the midday break (image in gallery), David Baron and Director David Yates.
The first action of the day (scene 69) was filmed very early, in fact early enough for us to miss it! and was that of the trio and the mysterious Wizard being near the Gents toilets on the main Whitehall place road, we'll bring more specific details on this scene as we get them, for now though
London Taxi Co
. took some great shots of the trio, David Heyman and the Wizard, check them out in their gallery.
Scotland Yard scenes (scene 70) centered on the trio making their way past the Old Scotland yard building, turning a corner by the entrance to the Ministry of Magic (same corner used previously with scenes featuring Harry, Dumbledore and the phone box!). We see the trio dressed in their Muggle clothes, hurrying to and from the Ministry with some purpose and being very distracted. Both Ron and Hermione were pictured with their purple Ministry passes in hand at either side of the Ministry entrance. A few extra 'Muggles' were used in the background for these scenes at both ends of the small street, walking back and forth at some speed (for a good 10-12 takes) which should add to the sense of urgency when we see the finished footage. Great photos were taken of the action which are in the gallery
HERE
.
Fans were also able to watch scenes 71 and 72 being filmed today. So quite a treat to have them all in such a small area. Hermione, Ron and Harry walk up the street, Hermione carrying her handbag, Ron and Harry with Ministry passes which they are looking at very deliberately. Finally passing them to Hermione to read, when suddenly Ron is tracked and stopped by this 'Skinny Wizard' wearing a grey shirt and tie and black hat, he grabs Ron's arm while the trio all turn to see what is happening!
Next sees Ron stage the capture of Mafalda Hopkirk. While Ron walks up the street, he suddenly stops to tie up his shoelace in front of Mafalda, forcing her to double take, Harry steps out of a hidden doorway and stuns her, causing her to fall into his arms while he drags her inside.
Not only were the trio dressed in their Muggle clothes today, but there was a chance to see them 'transform' after they had taken their Polyjuice potion! Quite a few scenes featuring Albert, Mafalda, and Reg were shot as they hurried once again up the street away from the Ministry and trouble. Being followed closely again by the Wizard, this time wearing a grey overcoat. Plenty of scenes were shot with all the main cast in or out of overcoats, most noticeably Harry with his knee length leather coat for a good few takes and also in his now well worn cream jacket; with some great photos of him holding his wand and casting a spell to come (great video to come of this too!).
After lunch, of which most of the cast stayed on set and a few retired to a local hotel; the unpredictable weather brought clouds, rain and no more sunshine, so sadly there wasn't a lot more which could be shot. Let's hope the footage captured today is good enough otherwise it could be all back again!
As WB had a permit to close to street until around 4pm there wasn't any more time to spare and footage of 'working' Muggles was filmed right up until the end of play, getting in as many shots as possible.
***Again, PLEASE note, these pictures and words are being shared here at this site; to allow Harry Potter fans that do not have the ability to check out the sets themselves, see a little of the action. Please, if you are a fansite or newsite, do NOT take these, and put them up as your own. Linking back to and stating where 'your' news and photos came from shouldn't be a demand, it should be common courtesy.
Thanks much!
The Management***