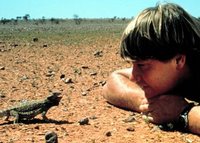 A Sad Farewell
This would be totally off topic, but will be said here anyhow.
This is a very sad goodbye to one of the worlds' greatest conservationist who passed on yesterday. Steve Irwin, also known as the 'Crocodile Hunter' died as the result of a stingray's barb through the chest, while snorkeling in Australian waters.
Steve leaves behind his wife Terri, daughter Bindy, and son Robert. Best wishes go out to them.
And here's to hoping, that all his efforts and hard work he did to help everyone understand that we share this planet with the animals around us, will always be remembered.
g'dspeed