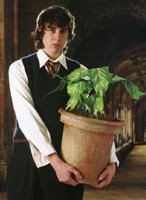 "The Nastiest Person You'll Ever Meet, on Film"...
Many of you probably thought I was talking about He-Who-Should-Not-Be-Named. Well you were not completely wrong, but based on an interview with Matthew Lewis (Neville Longbottom), Prof. Umbridge (Imelda Staunton) is "cruel, twisted and slightly mental...".
To listen the full interview, click on the following link:
Interview with Matthew Lewis a TLC podcast.
Source: TLC