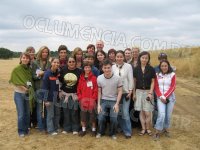 Fans from Brazil Visit OOTP Set
This past week, some very lucky fans from Brazil had a chance to visit the Harry Potter and the Order of the Phoenix set after winning a contest. Nínive, one of the fans who was part of the lucky group, posed for an ensemble picture with actors Daniel Radcliffe, Imelda Staunton (Professor Umbridge) and Natalia Tena (Tonks).

You can see the photo by clicking
here
.
Sources:
Oclumencia
and
Veritaserum