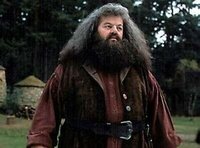 Interview with Robbie Coltrane
Robbie Coltrane, the 56 year old actor who plays Hagrid in the Harry Potter movies, was recently
interviewed
by The Daily Record. During the course of the interview, the actor revealed that his portrayal of Hagrid is actually based on a British member of the Hell's Angels motorcycle gang:
"He used to get off his Harley and walk towards the bar. People would move like ants out of his way. He would grab his pint, find a seat and say: 'I don't know about you, but the petunias this year are very bad.' He was a gardener, but he had fists like hams. He had a gentle heart. When we started talking about it, JK and I talked for three hours. She told me all about Hagrid's past, so I felt very confident about the part."
He then added "The good thing about Harry Potter is that I'm unrecognisable. So if 10-year-olds come up and give me a hard time at the airport, it's only because their parents have told them."
Source: dailyrecord.co.uk