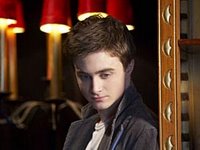 Daniel Radcliffe, as much a star on the Big Stage as on the Silver Screen!
This is not really Harry Potter related, but merits a post as it is rather big news concerning Harry Potter star Daniel Radcliffe. Daniel is scheduled to appear in a new West-End (London) theatre Production of
Equus
early next year, in which he will portray Alan Strang, a psychologically disturbed teenaged boy.
Rehearsals are scheduled to begin in January, and the play should see its premiere sometime in the spring of 2007. Equus, written by Peter Shaffer (Amadeus and The Royal Hunt of the Sun), was first presented on stage at the National Theatre in 1973.
Source: The London Times (Friday July 28th 2006 edition)