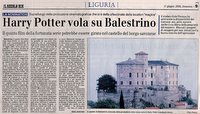 Possible Filming in Italy??
Well, according to a newspaper in Italy, it's a possibility. Though nothing has been confirmed officially, it appears that WB has sent out some 'surveyors' to check out some of the medievel type areas.
The fifth film of the series could be turned in the castle of the Savonese village.
The film, directed from David Yates, could feature the castle of Balestrino and the ancient village that rises beyond, in a highly magical atmosphere. The acclimatization offered from the village of Balestrino is very suited to accommodate the school of magic and atmosphere of Hogwarts. The mystery and the magic in fact are the elements essential to characterize in order to recreate a worthy acclimatization of the new history of Harry Potter, and on the castle that accommodates the school of Hogwarts they narrate great legends.
And also for this reason that the cinematographic production wants to maintain the top secret on the prechosen place where verra turned the new film in program.
Ok, Itallian is Not (OBVIOUSLY) my native language. So please forgive in any errors on the partial translation of the Itallian article.
Click the above pic, to see it full sized.
Also, the Mayor stated that WB asked him to postpone any plans of renovation and repair to the ancient buildings.