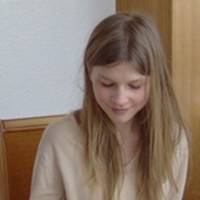 Interview with Cl
é
mence Po
é
sy

Clémence Poésy, who played the part of Fleur Delacour in

Harry Potter and the Goblet of Fire

, was
interviewed
back in January during the Fantasy Film Festival in France. She had this to say about her experience on set:
How did you get the part in Harry Potter and the Goblet of Fire?
It was quite simple, actually. The director, Mike Newell, was looking for a French actress to play the part of Fleur Delacour, and he held auditions in France. We met, and it went very well. I had recently played a part in a made for TV movie on the life of Mary Stuart for the BBC, and it was shown during the audition. This probably helped a bit.
What can you tell us about your film character?
Fleur Delacour is a French witch who comes to Hogwarts in order to participate in the Tri-Wizard Tournament. She will take part, along with a rather reluctant Harry, in the three tasks that make up the tournament.
Did you meet J.K. Rowling in order to discuss Fleur's character?
No (she laughs). She is very much involved in the important decision making process with the movie's producers before the acting starts, but she was never present on set so I did not get to meet her.
How was your first experience working in front of a blue screen?
It was the first time that I ever worked this way, but I didn't do too many scenes in Harry Potter. Just one that was underwater, so I didn't see much of what was happening anyway. Besides, I'd rather be in a heated aquarium than in a real lake.
When Harry Potter 4 was released, you mentioned during your interviews that you had not yet books 5 and 6. Do you know if you will be in any more of these movies?
No, I don't. The producers cast the parts one movie at a time. The filming of the 5th movie has already begun, and I know that I'm not in that one. I got the book for Christmas, and I still have to read it I think she comes back in book 6. We will see. Since they make some cuts when they adapt the movies, I don't know if I will be part of it.