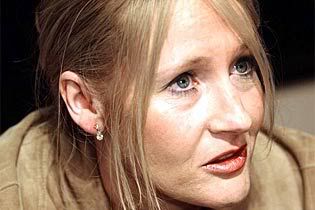 Honorary Degree for J. K. Rowling
Harry Potter author JK Rowling is to receive an honorary degree recognising her contribution to Multiple Sclerosis research.
The best-selling writer, who lost her mother to the disease, will receive a Doctor of Laws from the University of Aberdeen next month.
Jo Rowling, who has already been honoured for her contribution to literature by St Andrews, Edinburgh and Napier universities, is patron of the MS Society Scotland.
Jo, whose mother Anne died of MS at the age of 45 in 1990, has also given her backing to research in universities to try to unlock the mysteries of the disease, which affects the central nervous system. This includes a substantial donation to Aberdeen University's Institute of Medical Sciences.
She said: "I am extremely honoured to be receiving this honorary degree from such a distinguished Scottish university, with such a dynamic international reputation. I am also particularly pleased to support the work that the university's institute of medical sciences is doing on MS research. As the patron of the MS Society Scotland, and someone with personal experience of the devastating effects of MS, it is a great privilege to be able to help the institute continue its pioneering work into the causes and effects of multiple sclerosis."
Ms Rowling will receive her degree on July 6 at the university's Marischal College.
Congratulations Doctor Rowling!! (Or can we now call you Professor Rowling?)