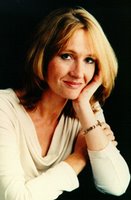 Rowling Fights for her Children's Privacy
In order to shield her children, along with those of other celebrities, from newspapers and tabloids, author
J.K. Rowling and her husband, Neil Murray, sued the British newspaper
Sunday Express
for invasion of privacy after the publication of an unauthorized picture of their son David.
Rowling
won
a privacy case against the
Daily Express,
parent company of the
Sunday Express,
effectively preventing British newspapers from taking and publishing photographs of the children of celebrities.
Rowling had this to say about her victory against the press:
"I am delighted that my children's right to privacy has been recognizedd by the Daily Express. Neil and I will continue to protect that right, on our children's behalf, as vigorously as possible."
Source: HPANA