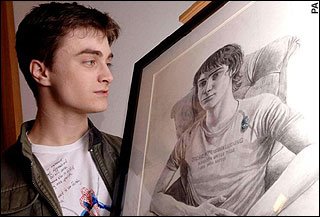 Portrait of Daniel Radcliffe on Display at National Gallery
Harry Potter star Daniel Radcliffe will become the youngest non-royal to have his portrait displayed at the National Portrait Gallery in England. According to an article on the BBC News website, Radcliffe, who is now 16 years old, posed for artist Stuart Pearson Wright when he was 14, and had this to say about his portrait:
"I love it. Until recently, I'd seen a peek of it in the catalogue, but not actually seen the real thing.
It was strange seeing myself as I was two years ago, not as I am now. If you look at each individual part of my face they look exactly like part of my face. Together it's surreal."
Radcliffe's portrait is part of an exhibition entitled "Most People are Other People: Portraits of Actors from Britain and Ireland", and will be unveiled at the National Theatre before moving to the National Portrait Gallery.
Source: BBC News
UPDATE: you can read another excellent article about the creation of Dan's portrait in today's edition of The Guardian.