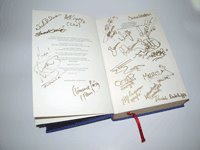 Signing up For a Good Cause
A copy of the book

Harry Potter and the Goblet of Fire

, signed by several Harry Potter cast members, will be up for auction on eBay from 14-20 March
. Proceeds from the sale will benefit 'Reading Is Fundamental', the UK's National Literacy Trust's children's literacy initiative. Each year,
RIF
enables children in areas of high deprivation to choose free books at events that emphasize the fun of reading.
The book in question has been signed by:
Daniel Radcliffe (Harry Potter), Rupert Grint (Ron Weasley), Emma Watson (Hermione Granger), Tom Felton (Draco Malfoy), Bonnie Wright (Ginny Weasley), Katie Leung (Cho Chang), Jamie Waylett (Vincent Crabbe), Josh Herdman (Gregory Goyle), Devon Murray (Seamus Finnigan), Clemence Poesy (Fleur Delacour), Afshan Azad (Padma Patil), James Phelps (Fred Weasley), Oliver Phelps (George Weasley) and Matthew Lewis (Neville Longbottom).