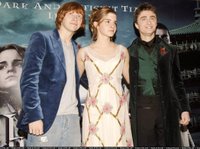 New Video Clip on CBBC Newsround

To coincide with the UK release of the Harry Potter and the Goblet of Fire DVD, a new video clip shot on the Harry Potter set at Leavesden Studios surfaced today, courtesy of CBBC Newsround. The clip features interviews with the three young Harry Potter stars and with producer David Heyman.

One of the news items included in the video concerns the much anticipated on-screen kiss between Harry and Cho Chang, which has apparently been causing quite a stir on the set of Harry Potter and the Order Of The Phoenix. Daniel Radcliffe and Katie Leung were meant to film the scene earlier, but Daniel got sick and it had to be postponed.
"Katie escaped, but I will get her," Dan joked.

In the same report, David Heyman said that Potter fans can expect to see a trailer for OOTP sometime towards the end of this year. Heyman then added that the film should be released in either the summer or autumn of 2007, with Half-Blood Prince set to follow in 2008.

To view the video clip,

click on this link

. Enjoy!