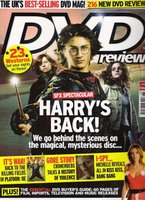 New Interview with 'Potter People'
A new and interesting interview with the Harry Potter Golden Trio, director Mike Newell and producer David Heyman can be found in this month's issue of DVD Review Magazine.
"
DVD Review:
What are you looking forward to most in the next film?

Dan Radcliffe:
All the teaching stuff, when Harry forms the DA. I think that's all really interesting and heroic, but understated heroic stuff. And what I think is really fantastic about the fifth one is Harry's relationships with Neville Longbottom and Sirius Black. Particularly Neville, because they have so much in common and they don't know it."
Source: Veritaserum