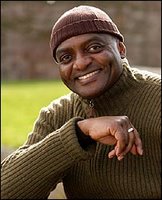 Casting Update!
Here are some new names to add to the ever growing cast list of
Harry Potter and the Order of the Phoenix
.
Kingsley Shacklebolt : George Harris

Young James Potter: Robbie Jarvis
Find out more about these actors by reading the
article
posted on the
CBBC Newsround
website.
*Photo Courtesy of CBBC Newsround*