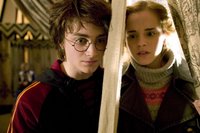 On the Road to the Oscars: The Starmeter

Here is some good news for all you Daniel Radcliffe and Emma Watson fans out there! Both actors are on the list of the top 25 most popular actors/actresses of 2005, according to the Internet Movie Database. Daniel is currently in 18th place, while Emma is in 15th.

Congratulations to both Dan and Emma for their achievement, and we are all crossing our fingers for them to win many more awards!


See the list of the Top 25 actors/actresses here:
Starmeter