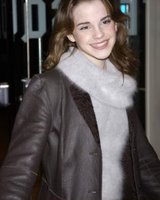 Interview with Emma Watson (a.k.a. Hermione Granger)


In an interview with the
Chicago Tribune
, Emma Watson stated that the Christmas holidays are the best time for her to do some heavy duty studying. A very Hermione Granger kind of statement!
------------

Q. How will you spend the holidays?


Unfortunately, my exams are in January. For Christmas, I will be doing revising. Ugh. But still . . . [I will enjoy] just celebrating Christmas, having a bit of time off. Seeing friends and family.

Q. Which exams are you worried about?


My worst subject is chemistry. It's a killer--I hate it. My favorite subject is probably art, maybe English. But yeah, chemistry is the one that is a killer, and geography coursework is pretty painful at the moment as well.
-----------------


Read the
Full Interview with Emma
.


Enjoy!