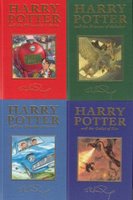 Harry Potter saves lives in the Wizarding world as well as in the Muggle world!
Studies show that the Harry Potter series saves children's lives by helpingr young ones avoid accidents. The article in the Edinburgh Evening News states the following...

"Researchers at John Radcliffe Hospital in Oxford studied attendance records for children aged seven to 15 at the hospital's emergency department over summer weekends between 2003 and 2005.
Writing in today's edition of the British Medical Journal, they say they found that the number nearly halved on the two weekends in June 2003 and July 2005 when "Harry Potter and the Order of the Phoenix" and "Harry Potter and the Half-Blood Prince" were published."

Is this merely a coincidence?
Read the full article by clicking on the links below:

The Edinburgh Evening News: Harry Potter saves children
Forbes.com: Harry Potter keeps kids safe