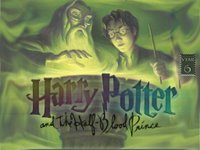 Half-Blood Prince
Ranks 5th in Stephen King's Top 10 list
In an article published in
Entertainment Weekly
, it is mentioned that J.K. Rowling's Harry Potter and the Half-Blood Prince ranks 5th in Stephen King's Top 10 book list.
--------------------
"5.
HARRY POTTER AND THE HALF-BLOOD PRINCE
, J.K. Rowling The miracle of the Harry Potter series is that it keeps getting better. The genius of Ms. Rowling was her decision (probably never even seriously considered at the time) to follow Harry through his schooling. As a result, Harry's fans have never left him behind. The question is whether Ms. Rowling will be bound to him for life, as Arthur Conan Doyle was bound to Sherlock Holmes."
Says Stephen King about the book and its author.
---------------------
See Stephen King's full list
Here
.