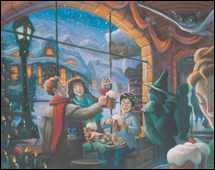 Grandpre Showing
The art gallery ArtInsights, in Reston, Virginia (U.S.) has yet again secured another new showing of Mary Grandpres' latest collection. The newest collection can be seen anytime after January 1st.
You may go to the gallery to either view, or to buy some of her work. ArInsights has already sold a half-dozen GrandPre originals and "dozens" of limited editions.
In addition, a portion of the profits will benefit First Star, a children's charity committed to helping victims of abuse and neglect.
"
They are not very expensive so they make for a nice first piece
," Barry (co-owner) said.
The framed Harry Potter limited editions are priced under $300, and even the originals will not break the bank. In addition, a portfolio of all seven prints—complete with a certificate of authenticity—is available for "the serious collector."
ArtInsight
11921 Freedom Dr
Reston , VA
Phone: (703) 478-0778
**
Times Community