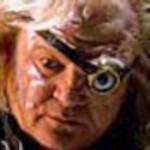 Bringing Mad-Eye to Life
A fascinating article in the Los Angeles Times
presents all the facts you need to know about Mad-Eye Moody, the former Auror, played by actor Brendan Gleeson.
--------------------
Bringing Mad-Eye vividly to life in the new film is burly Irish actor Brendan Gleeson, 50, a former teacher who has given memorable performances in such films as

Braveheart

,

Michael Collins

,

Artificial Intelligence: AI

, and

Gangs of New York

.


Did you teach the same age students as Harry, Ron and Hermione?


I did, actually. It was all boys from about 12 to 18. You know, that interesting time of life! You kind of make great friends with some of the kids too. It is a time in their life they prefer to forget, but if you like them to begin with, it kind of helps.
---------------------
You can read the full article by clicking on the link below.
A New Lesson Plan