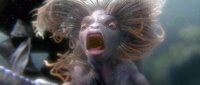 A Video Clip of the Second Task!
Here is a short video clip taken from the Second Task. In this scene, Harry is following strange voices from the deep and in the process, meets up with Fleur. However, things don't seem to be going
as planned for the young French maiden!
You may watch the clip directly by clicking on the link below!
The Second Task
Enjoy!


Source:
TLC