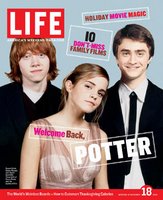 Our Favorite Trio in Life Weekend Magazine!


Just in time for the launch of HPGOF in theatres,
Life Weekend Magazine
has published its latest issue with Daniel Radcliffe, Emma Watson and Rupert Grint on the cover. This publication calls GOF the "
number one must-see family movie of the holiday
"!
To see the full size Cover picture of the magazine, just click on the image icon next to the title.


You may also read part of the article here:
Scan 1 and Scan 2

Source:
HPANA