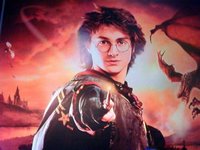 EA
Goblet of Fire
Video Game Available Today!
For all you videogame fans here is the news you have all been waiting for!

Harry Potter and the Goblet of Fire

the video game has now been released for PlayStation2, Xbox, Nintendo GameCube and DS, Game Boy Advance, and for your personal PC.
You may click Here if you wish to read the press release!

Source of article: TLC