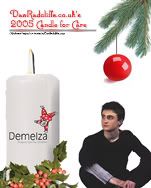 Christmas Message From Daniel
DanRadcliffe.co.uk has a message for all of Dan's fans worldwide - please support Demelza House Children's Hospice, or the charity of your choice, rather than sending gifts to Dan!
Click here
to go to the site and click on 'news' to read the full article on Dan's site, but his message reads as follows:
"As GOBLET OF FIRE has now opened, I want to thank everyone for the support I have been shown at the premieres in London, Paris and New York. It really meant a lot to me and the enthusiasm in each country was staggering!
I know as Christmas approaches, many of you are keen to send gifts, which I really appreciate. This year, however, I want to urge you more than ever, to consider making a donation to Demelza House Children's Hospice or indeed, any charity of your choice, instead. As I am not in the UK for several months, due to other commitments, I will be unable to reply personally to any gifts that I may receive.
I hope wherever you are in the world you have a wonderful Festive season and a fantastic 2006.
Once again, thank you for the kindness and generosity that you have shown me throughout 2005.
Dan"
You can make donations via the website to the 'Candle for Care Fundraiser'.