New Interview
TLC has recently gotten an interview with Karkaroffs' asstitant, Tolga Safer.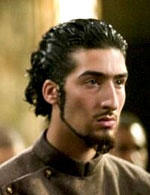 How did you get cast in Goblet? "
I was originally seen for the part of "Viktor Krum" around Christmas 2003. I then went and met Mike Newell (Director) and the casting directors Mary Selway and Fiona Weir for a second time at the film studios. Two weeks later my agent phoned me and told me they were going with someone else for Viktor Krum but that Mike liked my auditions and that a part had been created and offered to me, the part of Aide to Professor Karkaroff."
If so (or if you've read the books since), which is your favorite book and why?
"All the books are fantastic, but my favourite is "Goblet of Fire". "Goblet of Fire" was my favourite long before I became involved in the film. So much happens in this book; the new schools come to Hogwarts, there are new characters, the Tri-Wizard Tournament and Voldemort returns and takes shape. There is a great darkness and twists in this book which weren't as strong in the previous books."
Since Karkaroff's aide is not in the book, please tell us a bit about him
.
"Karkaroff's aide is just that, the assistant to Professor Karkaroff. People on set would joke that I was a 'mini-me' and I would agree, I'm like Karkaroff's "mini-me." The character is not a student like the rest of the Durmstrang boys, but a next in command after Karkaroff and friend to Krum."


To read the full interview, go to TLCs' page
HERE
.