New image possibly of Moody??
Well, possibly that is. Over at ebay, there's an auction for a 'Dark Arts' sticker, from the GoF movie. It's measured at 2"x6", and has Harry in the front, with 'Moody' in the bg. Whether or not it's genuine, is hard to say. But they've been listed as selling 'officially licensed merchandise', and we've written for information. Anyhow, feel free to check out the auction
HERE
. And below is a pic of the said sticker. Click it to view a higher res pic of it.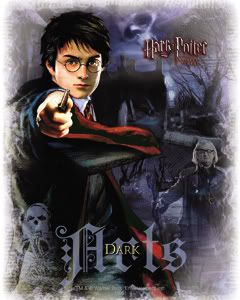 **Thanks to Sarah from
The Burrow
for this.