Another Update from Jamie
This one from just after his going to the CollectorMania6.
This is what he had to say on his diary posting today:
Monday, October 04, 2004
Collectormania
I have just had a great weekend.....On Saturday we traveled to Milton Keynes to attend Collectormania 6. As usual it took us nearly 30 minutes to find a parking space, then when we did park the car, we found ourselves at the wrong end of the shopping centre.As we went in I was surprised to see so many people wearing Starwars and Harry Potter costumes, everybody seemed so happy to be there, it was a party atmosphere.We just wandered around the shopping centre to see what it was like, because I was signing on the Sunday. So many fans were just coming up to me to say "hello" and have a picture taken with me, before we even got near the "collectormania area" it was nice to meet so many Harry Potter fans in one place and be able to talk to them, without security guards ushering us away.We we finally got to the area, I spotted Devon signing and went over for a chat and arranged to meet later at the hotel before we went out for the evening.Devon,Matthew, James, Oliver and myself (with all our parents) attended a "meet the fans party" later in the evening, we arrived in a stretch Limo that could seat about SIXTEEN PEOPLE! We had only planned to stay a few hours, but we were enjoying ourselves so much and everybody was so nice, we stayed until the end!On the Sunday, we were all signing at the tables, it was great fun meeting the fans and during our breaks, meeting the actors from other films that were signing autographs at the same event.In the afternoon, we all attended a question and answer session in the local theatre, I don't know about the others, but I was a bit nervous before it started, you never know what you might be asked, an interview with a Journalist is one thing, but with over a hundred fans, who know more about the Harry Potter books than I do can be SCARY. The fans laughed and clapped our answers, all of us enjoyed it and I don't know who was more annoyed when the session ended, the fans or us.Would I go to a "collectormania" again.....YES PLEASE !I have posted some pictures on the site....Hope you enjoy them.
For the pics, please go
HERE
but here's a good one of the boys from HP that attended for sweets.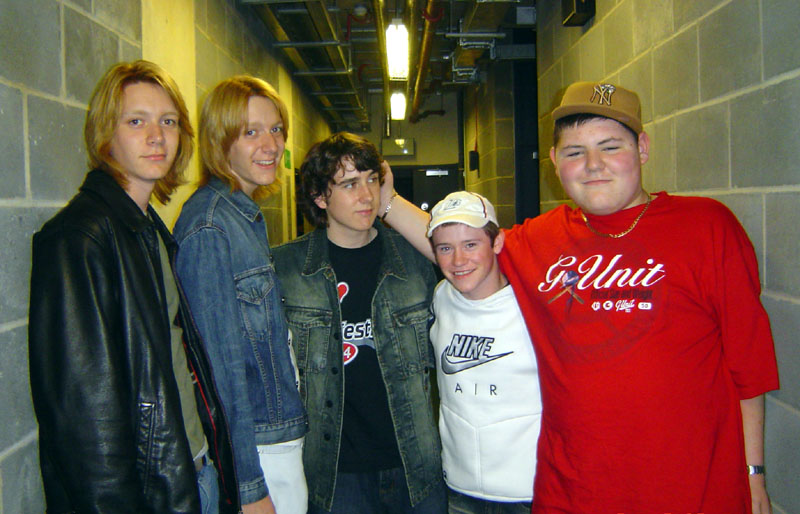 And again, thanks to Jamie ;)