Harry Potter display ready to delight fans
A spellbinding display of Harry Potter artefacts is winging its way to a Shropshire museum in time for the Bank Holiday weekend.
Stella Mitchell's Land of Lost Content, a museum of British popular culture in Craven Arms, will add a stuffed owl and Harry Potter memorabilia to its collection.
Harry Potter collection on its way to Stella Mitchell's Land of Lost Content
Mrs Mitchell said: "The museum is not about ancient history but about modern social culture. Harry Potter fits into this theme very well.
"When children come here they often see their own toys on display which they think unusual for a museum.
"But they really enjoy it and it makes them appreciate and realise that one day even they will be part of history."
The museum is a shrine to 20th century culture and history, with exhibits ranging from World War II material to music from the swinging sixties. Mrs Mitchell said: "The museum is constantly changing and we are always updating our collection with new items such as Harry Potter.
"We also have a display on the movie Toy Story."
Meanwhile the museum will continue with its teddy bear hunt throughout the school summer holiday.
Mrs Mitchell said: "We have hidden nine teddy bears at different locations throughout the museum and the children who find them can then win a bag of sweets.
"So far the youngsters are definitely winning - they have already won 70 packets of sweeties from me."
The museum is open seven days a week from 11am to 5pm. For details call (01588) 676176.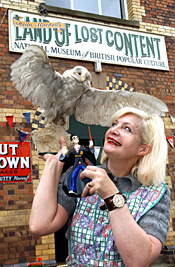 Harry Potter collection on its way to Stella Mitchell's Land of Lost Content